PHILLY CHEESE QUAKE EP. 1 - OREGON STEAKS WITH DEV79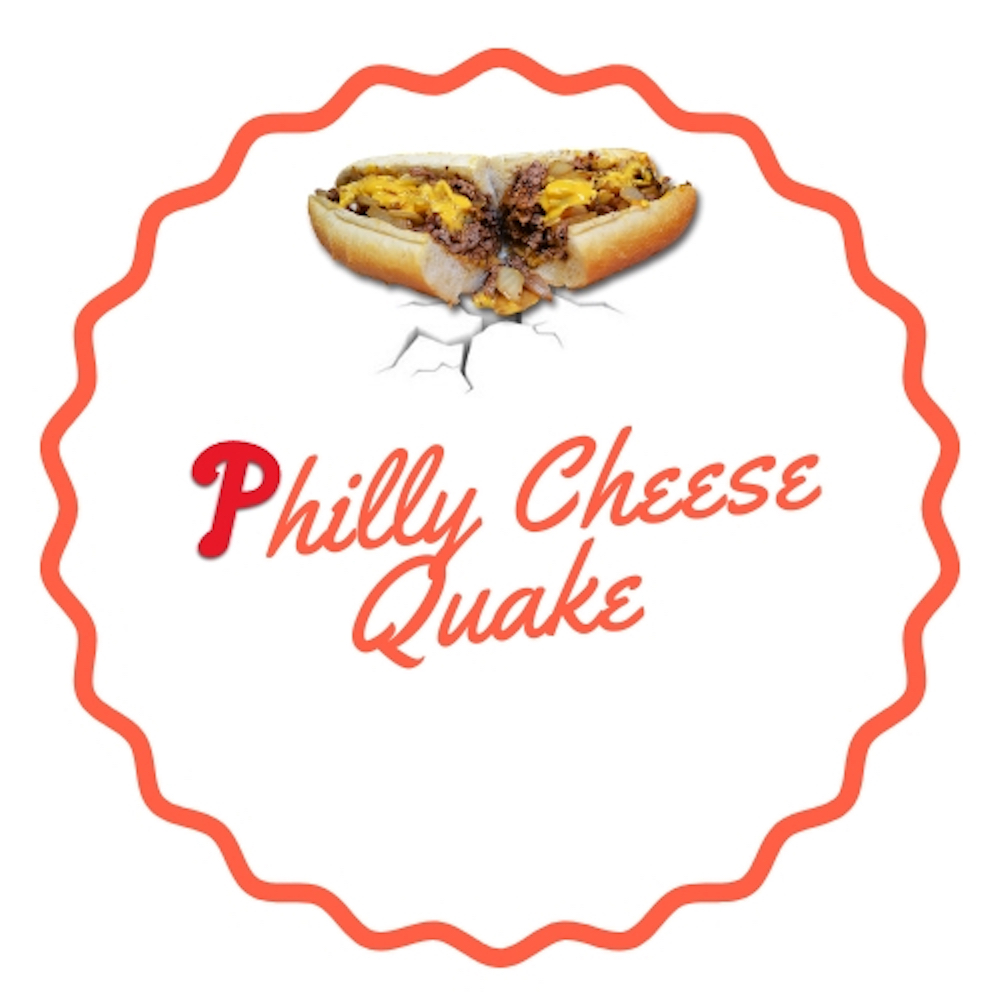 By James Sauppe aka RVLVR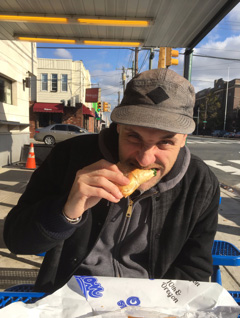 Welcome to the first edition of Philly Cheese Quake! We'll be grabbing a cheesesteak (other cheesy jawns) at one of the the city's many cheesesteak gems with different Philly musicians each month. For our inaugural outing we're heading to deep South Philly to get cheesy at Oregon Steaks (10th & Oregon) with Philly DJ, producer, and label-owner, Dev79.
Gair Marking aka Dev79 has been a staple of the local scene for well over a decade now. Credited as the founder of the Street Bass sound, Marking has released records with a slew of local artists over the years. He's hosted successful monthly Philly parties like Who Run It? at Fluid (rip) and currently co-hosts the popular footwork party, 160 Philly (w/ DJ Sideswipe). Along with Starkey, he co-owns and operates Seclusiasis and Slit-Jockey Records, the latter of which is co-co-owned by El Carnicero and is globally recognized as being the first stateside Grime label.
As we sat down outside to eat our food and chat about music on this sunny, November afternoon, a delivery guy began singing the Jeffersons theme song aloud while he was unloading boxes off of his truck. Garbage blew in the wind. Everything smelled like fried onions. The Phillyness was palpable.
THE ORDER:
Dev79: Chicken Cheesesteak with Sharp Provolone and Broccoli Rabe
PCQ: Ribeye Cheesesteak with Fried Onions and Whiz
Shared Appetizers: Onion Rings and Fried Ravioli
10 QUESTIONS For Dev79:
1. What is something most people don't know about you?
Dev79: "My real name. People think it's    Devin. Or an abbreviation for 'Gary.'"
2. What is your favorite non-cheesesteak food?
Dev79: "That's a tough one. I love food so much. I guess seafood. Thai seafood, something like that. I love Octopus."
3. Which artist heavily influenced you as a youth?
Dev79: Industrial music early on. That's when I first became interested in  synthesized sounds, when I was first exposed to electronics being used in popular music.
4. If you could be a superhero, which one would you be and why?
Dev79: Nightcrawler, because he can teleport. I'd teleport to a different city every day. I mean, we could be eating cheese and bread in Paris right now (laughs)!
5. What are some things you love about the Philly music scene?
Dev79: I like that the talent pool is really high and diverse, much higher than the average American city, in my opinion. On a simple level, it's nice to be around so many talented and skill-based people. Furthermore, whether I'm actively thinking about it or not, being surrounded by so many talented artists influences me to be better or to work harder or to strive for more.
6. Some things you hate about it?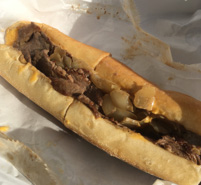 Dev79:  Well, I know you have to go to work in a bit, so I don't want to take up too much of your time (laughs)! I feel like we don't always have adequate crowds or fans, people who are willing to pay cover charges or pay for merchandise, whatever the case may be.
7. When you're not working on music or running the labels, what are you doing? 
Dev79: I love food and cooking quite a bit. Cooking is cathartic to me. I'm also a gear nerd, so even when I'm not necessarily in the mood to make music, I'm usually reading about synthesizers or nerdy tech shit.
8. What plans do you have in store for 160 Philly in the future?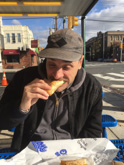 Dev79: We're always plotting and scheming. We just want to keep building the monthly… it's been strong, we're pretty happy with it and just want to keep it going. We're having some new merch coming soon. People have been really digging the tee shirts so we're planning to have new ones made. We also have some special one-off warehouse parties with some bigger headliners planned, national touring acts that we can't have in smaller clubs.
9. What's brewing with Seclusiasis and Slit Jockey Records?
Dev79: We have a Remix EP for Homesick we're working on at the moment for Seclusiasis. For Slit Jockey, we're preparing an EP for Sir Pixalot of all original Grime stuff that's kinda video game influenced. And ideally more merch… because that's all people seem to buy anymore (laughs).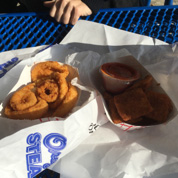 10. What's on the horizon for Dev79?
Dev79: I have a couple of singles and a couple of EPs in the works. There's a new EP  coming out on WILE OUT and remixes for Knightwerk, Forbidden Trax and Black Marble coming out on soon. I also have a collab EP with Sideswipe coming out via Black Marble Collective in early 2018. I've just been stacking a bunch of tracks that I'm about to unload on the people.
The review:
This place is great. The Phillyness levels are off the chart. Oregon Steaks is open 24 hrs and has sidewalk window ordering and picnic table seating outside. Not sure if there's inside seating, we didn't check and don't care. The food was outstanding and the employees were genuinely friendly and down-to-earth, not the kind of contrived customer appreciation you have to suffer through at Trader Joe's, for example. The food was served piping hot and was not too filling, which I always accredit to quality. Thin-sliced ribeye ($8.50), not that chipped, frozen pizza shop garbage. Fried raviolis FTW. Highly recommended. Pretty sure they were homemade.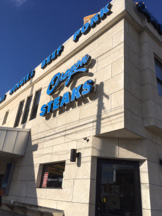 They may not have been, but I don't care. This place also serves breakfast sandwiches, for all you health nuts out there. 
In summation, Donovan McNabb probably wouldn't eat here, but Carson Wentz would.
The Quake-o-meter (a scale of 1 to

215

)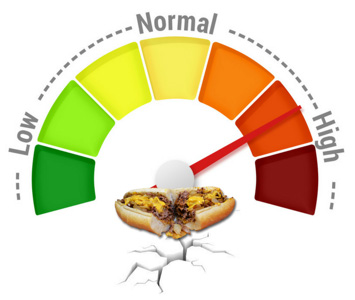 Dev79: 179 / 215
PCQ: 206 / 215
Final Grade=

 
90%
"A lot of places don't have both broccoli rabe and sharp provolone… take note, people."
~ Dev79