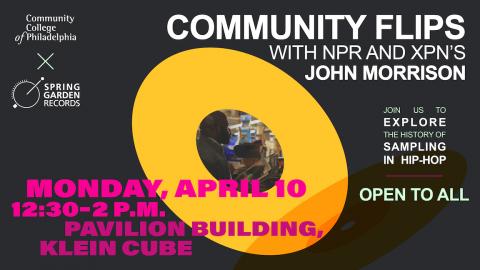 April 10th, 2023 - Join us for John Morrison's Community Flips
On Monday, April 10th, 12:30-2:00pm, we will be hosting a public discussion on the history of sampling in hiphop with Philly's own John Morrison (DJ / Writer / Producer). John is working on a new project for Spring Garden Records entitled Community Flips, in which he's using samples created by Community College of Philadelphia Music Dept. students and other Spring Garden Records artists. Details about this project will also be part of the discussion. Hope to see you there!
The event is free and open to the public.  The Klein Cube is located in the Pavilion Building on the 17th Street, just south of Spring Garden Street.