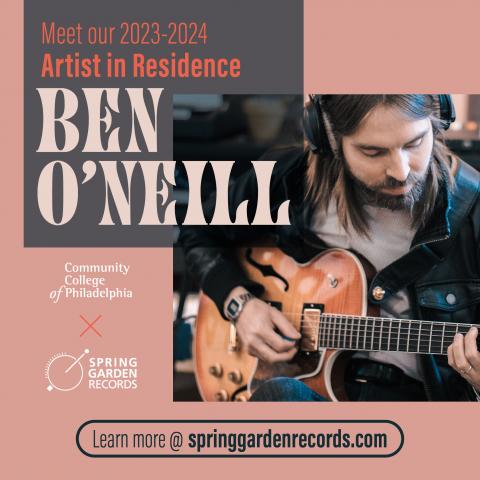 Announcing Ben O'Neill As Our 2023-2024 Artist in Residence
Community College of Philadelphia is proud to announce Ben O'Neill as this year's Artist in Residence. The year-long residency is a public facing art initiative engaging students and the public through experiential learning. The program is in collaboration with the College's Music Department and Spring Garden Records, the College's record label.
O'Neill is a guitarist, songwriter, singer and educator with extensive experience recording in the pop, R&B, gospel, jazz, and rock genres. He has toured 35 countries, 6 continents, and performed for millions of music lovers around the world.
A graduate from University of the Arts in Philadelphia, he studied with guitar legend Pat Martino, virtuoso Jimmy Bruno and beloved educator Tom Giacobetti. Now a member of the guitar faculty at UArts as an adjunct associate professor, O'Neill shares what he's learned as a professional musician with the school's passionate community.
 "Community College of Philadelphia is thrilled to have Ben O'Neill as this year's artist-in-residence," said Dr. David E. Thomas, College vice president for Strategic Initiatives and Community Engagement and manager of Spring Garden Records. "Mr. O'Neill's incredible talents don't stop at the stage. He understands the significance of educating the next generation of musicians and has more than a decade of teaching experience that he is bringing to this residency. I can't wait to see what he has in store for our community."
As part of the Artist in Residence program, O'Neill will participate in guest lectures, performances, masterclasses, and panel discussions. Additionally, the artist-in-residence has the opportunity to create an album while encouraging aspiring artists at the College. Recordings for the project will take place at CCP's recording studio, with students and other artists in attendance. The residency runs through June 30, 2023.
"I am greatly appreciative to CCP for the opportunity to be this year's Artist in Residence," said O'Neill. "The vibrant energy surrounding Spring Garden Records makes it an ideal setting to cultivate creativity, share and expand knowledge, and positively affect both the student and the broader communities. I am happy for the chance to add to the student experience, work on new music, and to keep learning along the way."
O'Neill's musical career began at the age of 18 as part of Tye Tribbett's genre changing band, Soundcheck. Since then, he has performed, recorded, and co-written songs with influential artists like John Legend, Jill Scott, Common, Sting, Kanye West, Kid Cudi, Tye Tribbett, Musiq Soulchild, Bilal, and more. O'Neill has appeared on the Tonight Show, Good Morning America, at the Hollywood Bowl, the O2, and at big festivals, little clubs, performing arts centers and local churches.
"The Artist in Residence program is designed to enrich the lives of our students and our Philadelphia community," said Paul Geissinger, director of Spring Garden Records and Music Department. "Ben has a deep understanding of what it means to support students and what kind of impact he has as an influential musician. We're lucky to have him as part of this wonderful program."
O'Neill is the College's second artist-in-residence, following last year's inaugural appointee, Ruth Naomi Floyd.